Cornell University Veterinary Specialists extends advanced clinical capabilities and education to NY Metro area
January 14 marked the first birthday of Cornell University Veterinary Specialists (CUVS), the College of Veterinary Medicine's satellite referral and emergency hospital in Stamford, CT. In less than a year, CUVS has served the medical needs of more than 2,500 animals referred from over 400 veterinarians across the region for advanced diagnostics and treatment in emergency and critical care, cardiology, internal medicine, orthopedic and soft tissue surgery, and oncology.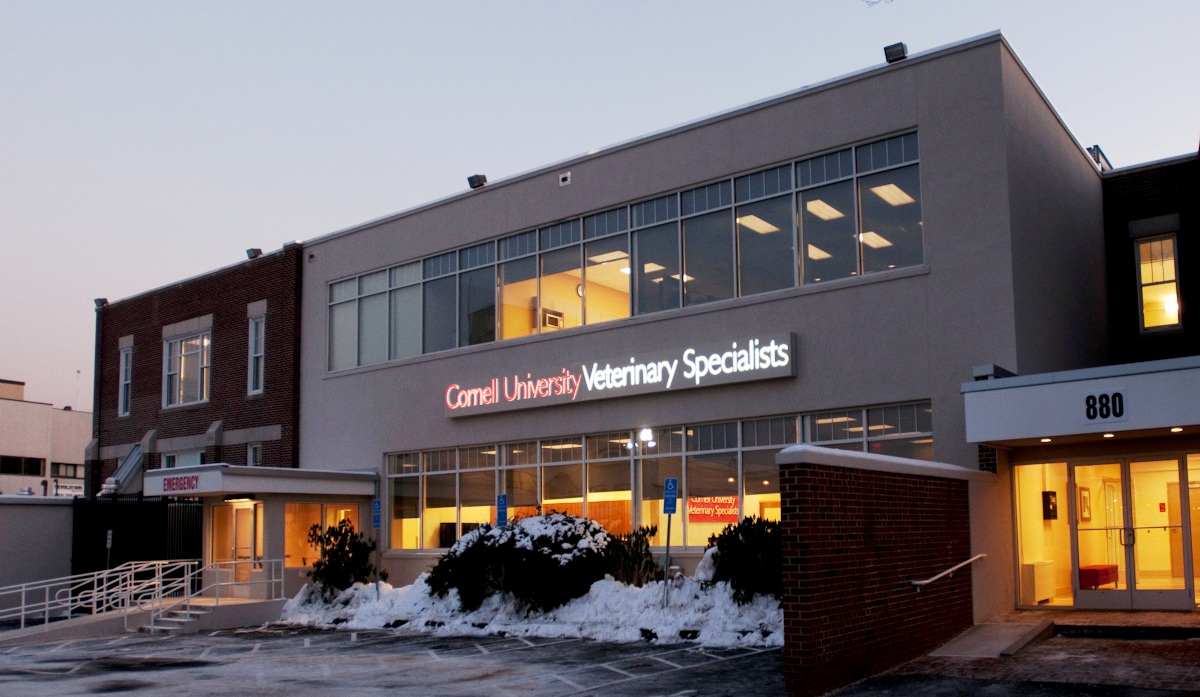 As collaborations and caseloads continue to grow, CUVS, the nation's largest academically affiliated veterinary center, is broadening its impact on pet-owners and the veterinary community across the Northeast with multiple educational initiatives.
"CUVS has become a leading veterinary referral center in the NY metropolitan area," said Dean Michael Kotlikoff. "As a College we are engaging in academic referral medicine in the same way that the strongest medical colleges' academic medical centers lead human medicine. In the absence of an academic footprint in the NY metropolitan area, we have added a previously unavailable option to access specialty services and continuing education."
Monthly continuing education lectures for area veterinarians, held in the center's 45-seat classroom, enable practitioners to stay up-to-date on important clinical topics while earning nationally-approved professional credits.  Regularly held education sessions for local pet owners, led by CUVS specialists, have covered topics as diverse as pet adoption, first-aid, and geriatric care. Partnering with Mercy College's programs in veterinary technology, CUVS also offers frequent labs, lectures, and clinical externships for students and professional technicians.

In Fall 2011 CUVS held its first all-day continuing education event for referring veterinarians. More than 100 veterinarians attended the sold-out program entitled The First 24 Hours: A Multifaceted Approach to the Emergency Patient at the Hyatt Regency in Old Greenwich, CT. Faculty members from the College of Veterinary Medicine in Ithaca joined CUVS specialists to lecture on a range of topics in emergency medicine and guide labs that offered hands-on experience.
Veterinarians choosing the CPR lab practiced resuscitating a robotic virtual dog under the guidance of its creator, Dr. Daniel Fletcher, assistant professor in the section of emergency and critical care. Dr. Margaret Thompson, section chief of imaging at the Cornell University Hospital for Animals, led the computer-based laboratory in emergency radiology of the thorax and abdomen.
"Feedback from attendees was very positive, and we all enjoyed meeting local veterinarians face-to-face," said Dr. Susan Hackner, Chief Medical Officer of CUVS, and a double-boarded specialist in Internal Medicine and Emergency & Critical Care. "The veterinary field is a small community, and we do refer cases back and forth, but we don't often get a chance to meet as a group to get to know each other. Putting faces to names helps us forge stronger bonds with our referring veterinarians, and we look forward to holding more events like this."
Educational opportunities at CUVS are also available to Cornell's veterinary students, who are eligible to complete observational externship rotations at the specialty referral center, as several have already done.
Collaborations between the College and CUVS extend to faculty and clinicians.
"The College's faculty help read our imaging studies, and College clinicians have used our services for consulting," said Hackner. "Dr. Meg Thompson is training us to get the most out of CT scanning, and we are working with Dr. Wakshlag in Nutrition to open CUVS to nutrition resident rotations. Dr. Marta Castelhano has helped us to set up an active research site collecting samples for the College's nationally recognized DNA Bank.  We look forward to further deepening these collaborations."
Quick facts:
An advanced diagnostics and treatment center for pets with serious or emergency health issues.
Specialty referrals and 24/7 emergency and critical care
Six specialists, two part-time specialists, three emergency veterinarians
Specialties include emergency & critical care, orthopedic and soft-tissue surgery, internal medicine, cardiology, oncology, and a recently added ophthalmology service
20,000-square-foot facilities include:

Intensive care unit; emergency room; three surgery suites with interventional radiology and fluoroscopy; imaging suites with CT scanner, digital radiology, echocardiography, ultrasound; 45-seat classroom auditorium; onsite apartment for visiting faculty and externs
Visit www.cuvs.org to learn more
—
'Scopes Magazine
February 2012