James Gillette has two passions: hunting and his dog. In an effort to spend time with both, he has dedicated years to training Jake, his chocolate lab, how to retrieve game. Often described as inseparable, Gillette and Jake were just as likely to be wandering through wetlands as they were to be at home until travesty hit both.
In the summer of 2010, Gillette fell so ill that when Jake ran in front of a truck and fractured his knee, it was several weeks before Gillette was well enough to get Jake to a veterinarian. When Jake later arrived at the Cornell University Hospital for Animals (CUHA), he was unable to put any weight on the leg and it looked like it might have to be amputated.
In a first-ever surgery at Cornell, Assistant Professor of Surgery Dr. Ursula Krotscheck and an orthopedic surgeon from Ohio State University led a team of CUHA residents in a total knee replacement surgery, a relatively novel procedure never before performed at Cornell. The surgery team removed pieces of bone around Jake's knee and constructed components to recreate the joint, giving Jake a second chance at an active life.
Soon after the surgery in Spring 2011, Jake walked home by Gillette's side using all four legs.
"Jake has recovered extremely well from what in most cases would have been a crippling injury," said Krotscheck. "We are one of only five teaching hospitals that have performed this procedure. Our team and Jake's resilience all contributed to making our first canine knee replacement a success."
Now a year post-surgery, Jake recently passed his first anniversary check-up with flying colors.
"Look at him run!" said Gillette as he tossed Jake's favorite toy, spurring the eager retriever into a full sprint. "He's happy as ever and his leg is like new. Before the surgery he wasn't using it at all. Now we're playing and hunting together again."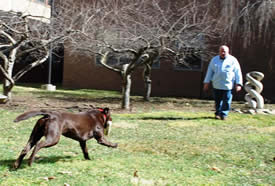 —–
College of Veterinary Medicine News
http://vet.cornell.edu/news/Jake.cfm